AAUW DURANGO SCHOLARSHIPS
 AAUW/Durango currently has three endowed scholarship which provide a non-traditional woman student at Fort Lewis College with $1000 to apply towards tuition and fees.  They are the Virginia Schosher/AAUW Scholarship and the Janet Watson/AAUW Scholarship and the Cheryl Jackson.  We are in the process of funding the Sandy Brown/AAUW Scholarship.  Information on the founding of those scholarships and their current holders appears below.  
   2019-2020 AAUW/Virginia Schoser Scholarship                                     Recipient – Alicia Hanson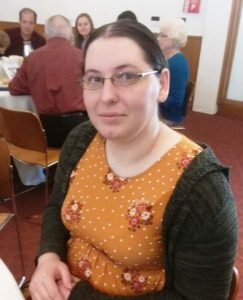 HER UPDATE FROM SPRING 2020:   As a non-traditional student, the balance between "real life," so to speak, and pursuing a college education can be a bit chaotic to juggle, but kind-hearted individuals like yourselves [AAUW] willing to assist students truly helps lighten the load. I'm very excited to jump in and make my dreams a reality. It is through donations such as yours that this becomes possible. I deeply appreciate your willingness to help, and again, thank you so much.
Currently Alicia is with her family in Durango, continuing to finish her junior year and heading toward her senior year next fall.  She's been using the extra time doing art and practicing new methods with watercolors, comics, and catching up on some photography projects. She has also been trying her hand at learning Japanese.
2019-20  The FIRST EVER Cheryl Jackson Scholarship Recipient – Cinammon Hobbs
Cinnamon is finishing her junior year at FLC coming from San Juan College. She has two Associates Degrees – Biology and Math. She is now a math and biology major, planning for a PhD.  Her long term goal is a career in astobotany –  like Matt Damon in the movie The Martian. Her favorite field of mathematics is combinatorics.
HER UPDATE FROM SPRING 2020:  Everything is on track for completion of my junior and senior year, and graduation in Spring 2021.  My Senior Capstone in Mathematics team was able to give our presentation to the Durango-La Plata County Airport Commission. I am signed up for an online chemistry class at the beginning of summer, called "natural products from plants". The professor has a stellar reputation. He promises me I'll be building chemical apparatus and conducting experiments in my kitchen. I can't wait! I am also participating in a graph theory research project with math professor Dr. Laura Scull next year. We'll be doing actual research into mathematical truths that no one has ever done before. Like a dream come true!
I hope you are well. Please pass along my gratitude the AAUW members for their support – and to Cheryl Jackson, Thank you again for all the lives you've touched, and for being the kind of person that inspired this scholarship. It means so much to me. I am quite sure you've made the world a brighter place.
THE AAUW SANDY BROWN SCHOLARSHIP

Sandy is a lifetime member of AAUW Durango Branch, the First scholarship chair 1974 – 2016   and was Branch President – 1978-1980 & 1982-1983.
Sandy and her husband, Dean, came to Durango from Denver in 1969 when she was pregnant with their son Travis.  She had been a speech therapist with Cherry Creek School District.  'Volunteer' became Sandy's middle name at this point in her life. Planned Parenthood benefited by her time, as well as most AAUW Branch offices. Sandy served First United Methodist Church on committees and as a Sunday School teacher. Volunteering for United Way and presenting the Dental Health Puppet Show to all area 3rd graders filled out the variety of her volunteer endeavors.
To balance her life, Sandy has been an avid runner.  Her running buddy neighbor, training for a marathon, talked her into running the Phoenix Marathon where she qualified to run the 1984 Boston Marathon. She continues to run to this day.
Shortly after Sandy's arrival in Durango, her neighbor, Marge Martinson, invited her to join AAUW. That was the beginning of 50 years of Sandy's leadership. She served as AAUW Branch President 1978-80 and 1982-1983.  After her presidency she continued to lead and was especially inspired by Jeanne Willeto who brought an inclusive nature to the branch.  Jeanne's husband was Navajo.  Sandy remarks, "I think Jeanne was more knowledgeable and devoted to AAUW than anyone I've ever known….  Maybe not Marcy Jung -she is a quick learner!"
In 1974, President Sandra Mapel, Sandy's close friend, asked her to be the first Scholarship Chair for the Durango Branch.  Years later she became motivated to begin the first Fort Lewis College Endowed AAUW Scholarship.  In spite of controversy amongst the board regarding the value of endowments, she was determined and waited for a new president to be elected to continue the discussion.  Virginia Schoser, a charter member still living, was honored with the first named scholarship.  Sandy thinks it was a great idea to name scholarships and says, "I wish it was my idea; it wasn't—it was Jeanne Willeto's!"  The gift of the Schoser Estate named for education made the first endowment possible. It was endowed and awarded in 2006.
Sandy's scholarship development continued. In 2009 she worked with member Janet Watson's daughters to create the Watson Scholarship. It was quickly endowed in 2012 due to the Watson daughters' generous contributions, including the estate sale profits.  The Cheryl Jackson Scholarship, started in 2012, was fully funded by AAUW members, endowed in 2018 and awarded in 2019.
Sandy served as AAUW Scholarship Chair for 42 years, taking a break in 1990 to go to CU Boulder for a master's degree.  She returned to speech pathology working at Mercy Hospital and area nursing homes, mainly with stroke patients.
Sandy established and nurtured a solid relationship with Fort Lewis College Foundation (FLC), which remains to this day, developing warm relationships with many of the scholarship recipients.  Her passion for supporting non-traditional FLC women students is steadfast.  She passed the scholarship position on to committee member, Kathleen Adams, in 2016.
AAUW is proud to now call Sandy Brown a lifetime member who continues to bring her dedication for excellence to the core mission (scholarships) of the Durango Branch.  The current membership is dedicated to working toward a 4th endowed scholarship in Sandy's honor.  Certainly, no one could deserve this legacy any more than our beloved Sandy Brown.
Kathleen Adams, March 2020
THE AAUW CHERYL JACKSON SCHOLARSHIP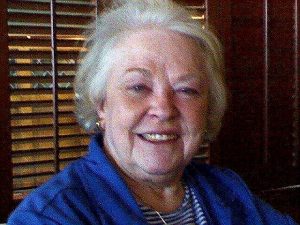 In 2012, this scholarship was named by the AAUW Board at the time and fundraising for our third scholarship began. Cheryl had a long time career as a teacher. After moving to Durango, she joined AAUW along with a number of other organizations.
Cheryl was a fine committed volunteer within the Durango Branch of AAUW. She had been a member of the AAUW scholarship committee and President of the chapter twice. One of those presidencies came at a time when membership was at an all time low and Cheryl resurrected the branch. She initiated the Fall Membership Luncheon. She authored special meetings in the spring for new graduates to meet prospective employers or future educators.
Cheryl was in charge of several Book and Author luncheons and managed teas for graduating students.  She joined in the acting troupe of the historical program called Women of the San Juans playing a leading Madame of early Durango. She also acted in the AAUW production at Fort Lewis College Before Choice. In spite of suffering a stroke in 2011, Cheryl continues to enjoy visits from her family and friends an especially her fellow AAUW members.
The AAUW Cheryl Jackson Scholarship fund currently has close to $20,000.  It will be fully endowed when we reach $25,000 and we will be able to offer help to another deserving student.
AAUW VIRGINIA SCHOSER SCHOLARSHIP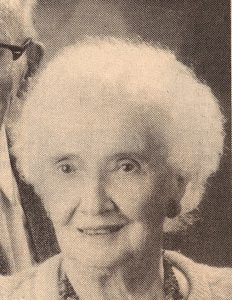 This was our first named scholarship, named while Virginia was still alive.  However, not endowed until after she and husband Barney died, when they left their estate to education.
Virginia's parents homesteaded west of Pagosa Springs where she and her 3 brothers were born.  Her dad died when she was 10; her mother then moved the family to Ignacio for a teaching job.
After Virginia graduated from the teacher's college in Greeley, she taught in many rural schools, later in Pagosa and was thrilled to be offered a job in Durango–the big city!  She taught whereever she was needed for 37 years but 4th grade was her favorite and she was at Mason School for many years.
She married Barney in 1944.  In 1946, the Durango Branch of AAUW was formed and she was a charter member, serving as president 1948-50.  In 1952 the branch had enough money to fund a tuition scholarship to a girl from Dolores but they were not always successful in raising the necessary funds. 
In the last week of her life at Four Corners Nursing Home, she was pleased to receive the certificate of life membership from AAUW for paying her dues for 50 years.
JANET WATSON AAUW SCHOLARSHIP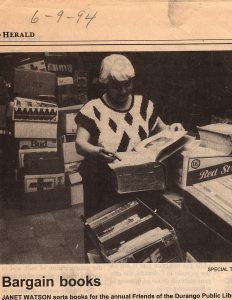 The Janet Watson Scholarship was endowed in 2012.  When she died of cancer at 85, January 31, 2009, the scholarship had just been named and her daughters designated it as a memorial, which added donations of $1,000. to the scholarship.  They donated the proceeds from the estate sale ($3,000.) and they each donated $3,000. ($9,000.) of their inheritance, which helped reach the endowment minimum quickly.
Janet graduated from University of Wisconsin in 1945 with high honors in speech therapy.  She worked for the War Department, Borden General Hospital in Chickasha, OK, treating veterans with hearing impairments.  There she married Lt. John Watson, M.D.  After moving with the military, they settled in Durango in 1955 where Dr. Watson was the first radiologist.
Janet was very involved in the community, active in PTA, Girl Scouts, Great Books, reading groups; helped found United Way and was a longtime supporter and at one time a full time volunteer at Planned Parenthood.  She also was a member of Tuesday Literary Club, Reading Club of Durango, was a founding member of Friends of Durango Public Library and a PEO member. 
She was a 50 year member of AAUW, holding many offices, including Durango Branch presidency, 1966-68.  Her last contribution was researching Virginia Schoser for a fundraiser.  Not realizing her lack of energy was due to cancer, she had trouble finishing.  Lou Falkenstein helped her complete the project and Judy Hook presented on September 20, 2008 for a brunch at Electra Lake Clubhouse.  The proceeds went to the AAUW Scholarship Fund before it was named Janet Watson.