19th Amendment 100th Anniversary Celebration
2020 marked 100 years of Women's right to vote in the United States.  In 1920 the 19th Amendment was ratified to the constitution granting women the right to vote.
---
Virtual Book and Author Event 2020
This year our event was called Caregivers Need Care, Too and we hosted Marcy Houle, author of The Gift of Caring.  With the events of this year it is especially important to offer support to caregivers. The wonderful thing about virtual events is that you can record and share the event over and over again. Please note that the first 15 mins we also screened the Open-Air Salute to Suffragists video.
---
70th Branch Anniversary of AAUW Durango
In 1946 our AAUW Durango chapter was formed.  We gathered to celebrate all the past generations of AAUW members and to honor our past chapter presidents.  Most importantly was our first president Sharley Pike.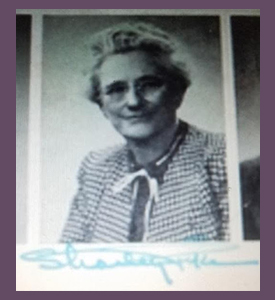 Sharley Pike – 1946 Durango A.A.U.W. President
Sharley Pike was born on January 8, 1887. Her parents were Judge and Mrs. CA Pike of Durango.  Judge Pike was a judge for the 6th Judicial District here in southwest Colorado.  She attended Colorado College in Colorado Springs and was an active member of the Contemporary Club of Colorado College. 
 She was a beloved and distinguished English teacher for many years.  One of her students, Philip R Craig, became a well-known mystery novelist. He credited his love of books and writing to his wonderful English teacher, Miss Sharley Pike.  She was the first Durango area A.A.U.W. President in 1946.  She passed away in February 1971.
We also compiled a complete list of all the past presidents from 1946 to 2017.
and also some Tidbits in Women's History